Unlock the value in your data for smart maintenance
Amygda is an AI/ML start-up for MaintOps in the rail and aerospace industries. Amygda's proprietary, ML-based smart maintenance stack allows train lessors and operators to uncover risk and obtain actionable insights, helping save billions in reactive repair costs, improve risk management and prevent incidents. Uniquely, Amygda's FleetMind platform can integrate data from any equipment from any OEM, enabling TOCs, lessors, and other hardware providers to implement their own digital solutions. 
Benefits of working with Amygda
Remove unplanned downtime
Run your operations without disruption. We advise you of any maintenance well ahead of time, allowing you to plan it in advance.
Increase ROI on your equipment
Reduce your maintenance costs by 25%. Our platform can help you optimise your maintenance and increase efficiency.
Predict and prevent damage
By detecting primary damage, and initiating maintenance, you can prevent costly secondary damage and optimise part life.
A holistic view of the whole fleet, in one platform.
Amygda's analytics platform is geared for time-series data in the industrial domain. We can integrate with your existing sensor data, and ERP systems, removing the need for any capital-intensive investment.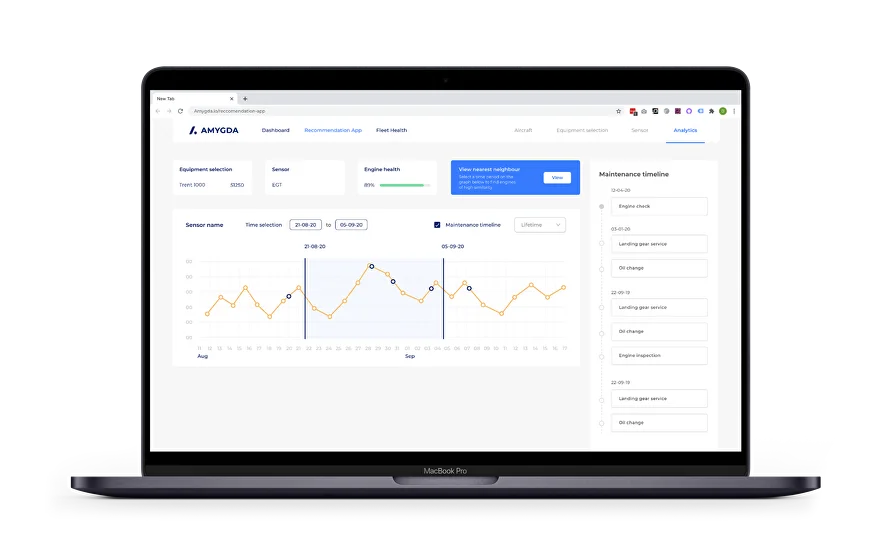 Time-series data platform
With the capability to work with high-frequency (1Hz) data and snapshot data in any time intervals, our platform is built for time-series data – the format of choice in large industrial businesses.
Complex event processing
Our complex event processing system works with over 200 machine learning models; it is applicable for failure prediction in many industries, delivering faster time to deployment and value.
Drill-down visualisations
Powerful visualisations come out of the box and can be further customised to each customer's needs. It handles all real-time alerts and notifications of emerging issues. You can keep all notes in one place.
No vendor dependablity
Ingest both historical and real-time data from any number of sources. Connect via API, web-upload, or satellite communication. We have the toolkit to integrate with your existing ERP system.
Hear the Voice of the Customer