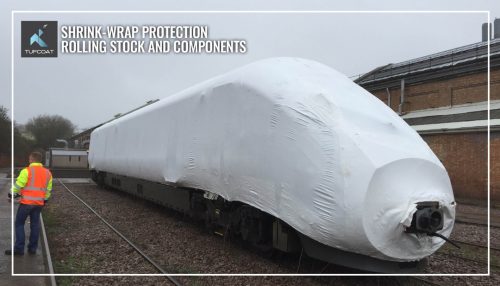 Conventional covers have the benefit of being able to be used multiple times, however, this is based on the idea that they are returned after the first use, and that no damage has occurred. Tufcoat rolling stock covers mitigate the need to return, clean and maintain conventional covers.
Tufcoat shrink-wrap creates a cover which has a 'drum tight' fit and produces a tear-resistant covering over any shape. A shrink-wrap cover overcomes the disadvantages of conventional PVC covers that can detach and fail damage during transport or extreme weather and can be recycled after its use.  See the video below to view the process of Wrap to Site !!
All images above (C) Tufcoat.
Visit Tufcoat – Weather protection & Environmental Containment at Rolling Stock Networking on 1st July 2021 in Derby UK.
www.rsnevents.co.uk