Jewers Doors' Australian re-seller, Max Door Solutions (MDS) have recently completed the installation of six sets of Swift-SEW bi-folding doors, for the new Lilyfield maintenance depot for Sydney Light Rail.
The doors accommodate OLE and railway lines, fully open in 7 seconds and contain fail safe features to prevent injury or damage during operation.  The doors are also fully insulated to attenuate noise and to assure thermal efficiency.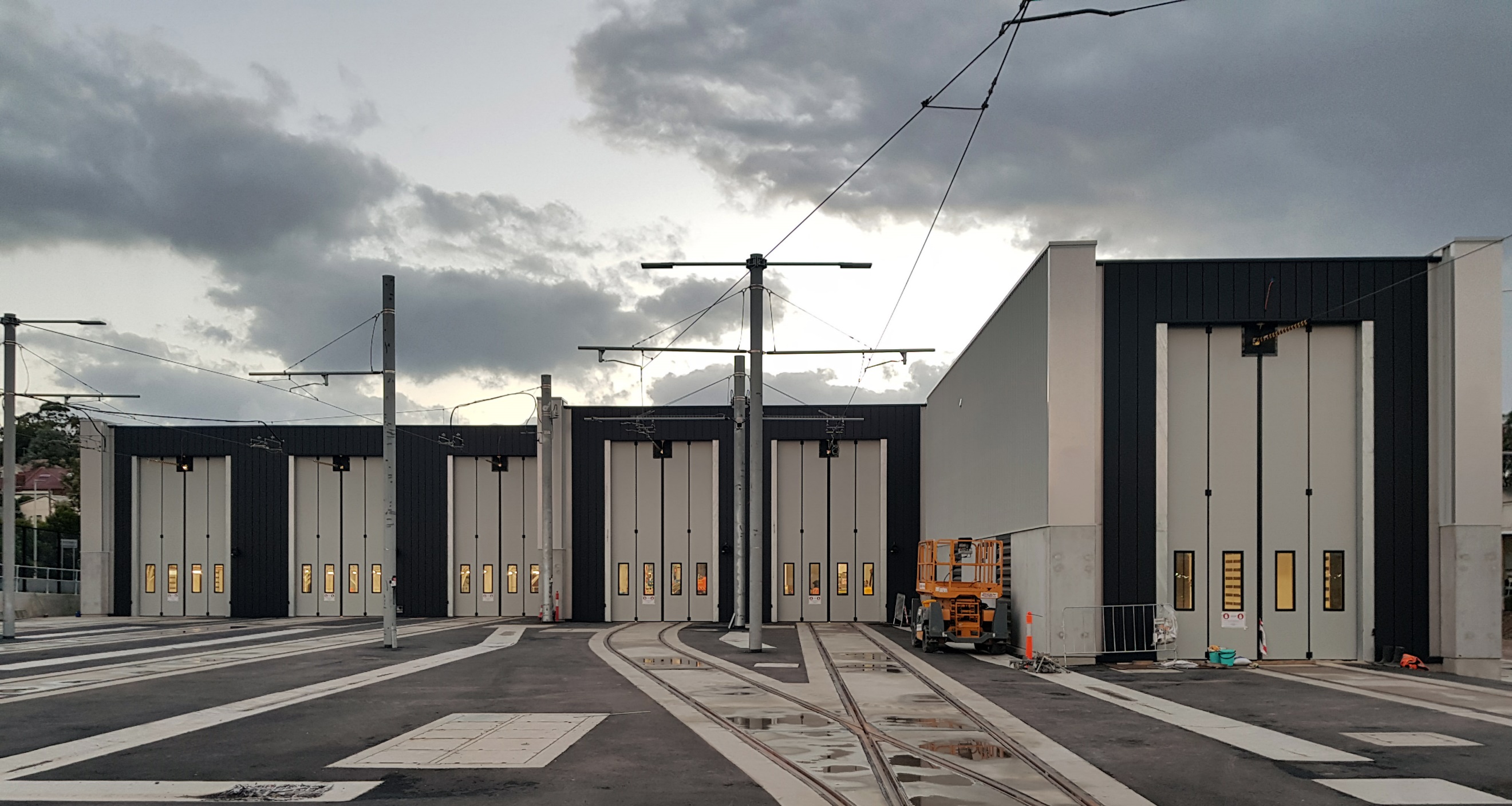 Swift SEW Bi-Folding Doors
The CBD and South East Light Rail is a new light rail network for Sydney which will significantly improve public transport access to major sporting and entertainment facilities, as well as the University of NSW, TAFE College and several hospitals. The Lilyfield Light Rail maintenance depot building can accommodate up to six LRVs for servicing at any one time. MDS were commissioned by the principal project team of Coleman Rail and Architectus to supply and install automatic bi-folding doors which are fitted to the six LRV entrance roads into the Lilyfield depot.
 All six sets of doors are 3.74m wide and 6.1m high, configured in four leaves with two leaves folding to each side clear of the opening on the inside of the building. Doors are operated by a powerful, centrally mounted SEW drive unit which opens and closes the door in 7 seconds.  Control is via a purpose-built PLC control panel incorporating inverter control for ultra-smooth operation and integration with the building management system.  In the event of power failure, a low-level disengage handle enables the doors to be opened easily by hand. 
Safety and Efficiency
The leading edge of each door incorporates full height pressure sensitive safety edges to ensure user safety. Additional send/receive photocells prevent the door closing on an LRV and create a safe zone around the door. Each door leaf is fitted with full perimeter, seamless, multi-wall EPDM rubber seals to prevent dust and water ingress. Door leaves are also fitted with a double glazed toughened glass vision panel set in a thermally broken aluminium frame to provide light ingress and allow the tram driver visibility during operation.
About Jewers Doors
Jewers Doors is a world-leader in the design, manufacture, installation and repair of industrial doors across all industrial sectors.
Jewers Doors have been installed not only in the UK, but also throughout the world including Europe, Middle and Far East and Australasia.
Visit our Web Site    www.jewersdoors.co.uk
Inspection and Enquiries
Do you need a full inspection report on an old or failing door or a professional company to survey openings and quote a price for new doors?
Jewers Doors are a DHF accredited company and operate under strict guidelines to advise on the best and safest solution for each application and provide an expert service that is second to none.
For further information e-mail Mark Jewers        mjewers@jewersdoors.co.uk