Organisers of the Rolling Stock Networking (RSN) event are encouraging visitors to register in advance of the event to ensure quick access on the day, as visitor numbers are expected to be high.
Click the Icon or CLICK HERE to REGISTER 
130 Exhibitors 8 Industry Leading Speakers – 3 Trade Events
.
Meet Buyers, Specifiers and Suppliers
Visitors will be able to meet buyers, specifiers and suppliers from across the industry. RSN 2019 offers the chance to meet with many cutting-edge companies that are not normally seen on the exhibition circuit. These companies offer new technology, brave innovations, exciting products as well as essential services.
Big Names Too
The event will undoubtedly be a major event in the Railway Calendar – with big names including Bombardier Hitachi HS2, Vivarail, CAF, Westermo, LPA Group, Leoni and Schaltbau all exhibiting. Due to the high levels of interest for RSN 2019, the team has already confirmed that next years event, RSN 2020 is already taking advance bookings.
All Under One Roof at Derby Arena (Velodrome).
"We already have a huge number of visitors signed up to attend the event and we would encourage anyone active in the rail industry or aspiring to supply in the industry to attend."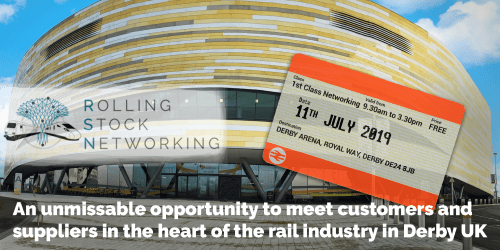 Conferences and Events
As well as being a great networking opportunity, you'll also hear from some inspiring industry leading speakers at the railbusinessdaily.com conference.
Held throughout the day, high-profile speakers from new builders, operators and the broader industry will share their knowledge, experience and innovative working practices during short sessions.
The Speakers at the RailBusinessDaily Conference at RSN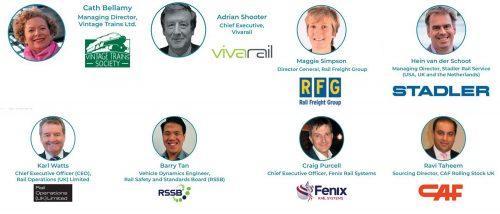 Speakers will provide a series of technical and commercial presentations where visitors can hear about project successes, industry marketing news and innovative products and solutions. Each offering will provide real substance and interest to the visitors.
Trade Association Events
At the event, there will also be a Trade Association area where Railway Industry Association, Rail Alliance and Rail Forum Midlands will host their own events during the course of the day.
Get the Show Guide – Click the Pic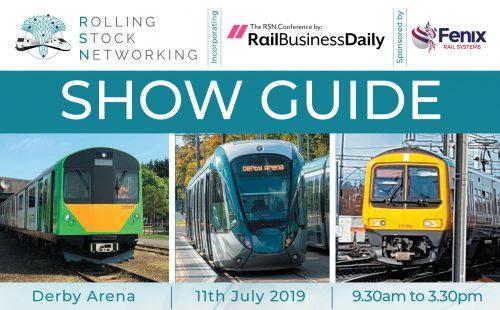 Win Great Prizes
Win a fabulous prize worth over £900 by entering a raffle at the Railway Children stand all proceeds to the Railway Children the prize is silver service meal for 4 on a Vintage Trains excursion. Also get the chance to win a tool chest worth £3,500 simply by visiting the Acres Engineering stand.
Meet the Sponsors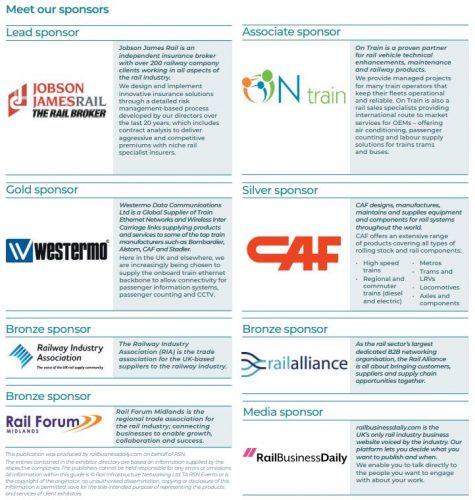 Sign up now!
Visitors can sign up to attend the event for free by visiting the RSN website here: www.rsnevents.co.uk/register
All visitors who have pre-registered will be sent the official show guide ahead of the event to allow you to plan your visit.
Did you Miss Out on and Exhibitor Space – Join us at RSN 2020 on the 2nd of July 2020 or RIN Derby on 5th September 2019.
RSN 2020 will be on the 2nd of July 2020 at the same great Venue and with 10 more stand spaces.  Register interest now for a stand space at an incredibly low price now by emailing info@rsnevents.co.uk
Infrastructure Companies can Exhibit on 5th July at Derby Velodrome at our Sister Event Rail Infrastructure Networking – Space is available book now at www.rinevents.co.uk
Event Charity