Jewers Doors' Australian reseller, Max Doors Solutions (MDS), have recently completed the installation of four sets of Swift-SEW doors on the Maintenance Depot for the new Light Rail system in the country's capital, Canberra.
Register to attend RSN 2019 11th July Derby FREE HERE
Jewers were approached directly by Sydney-based architects, Architectus in 2016 to design bi-folding doors for the light rail vehicles (LRV's) to enter and exit the depot.  Jewers had the ideal solution with the Swift-SEW door, designed and marketed specifically for the rail industry.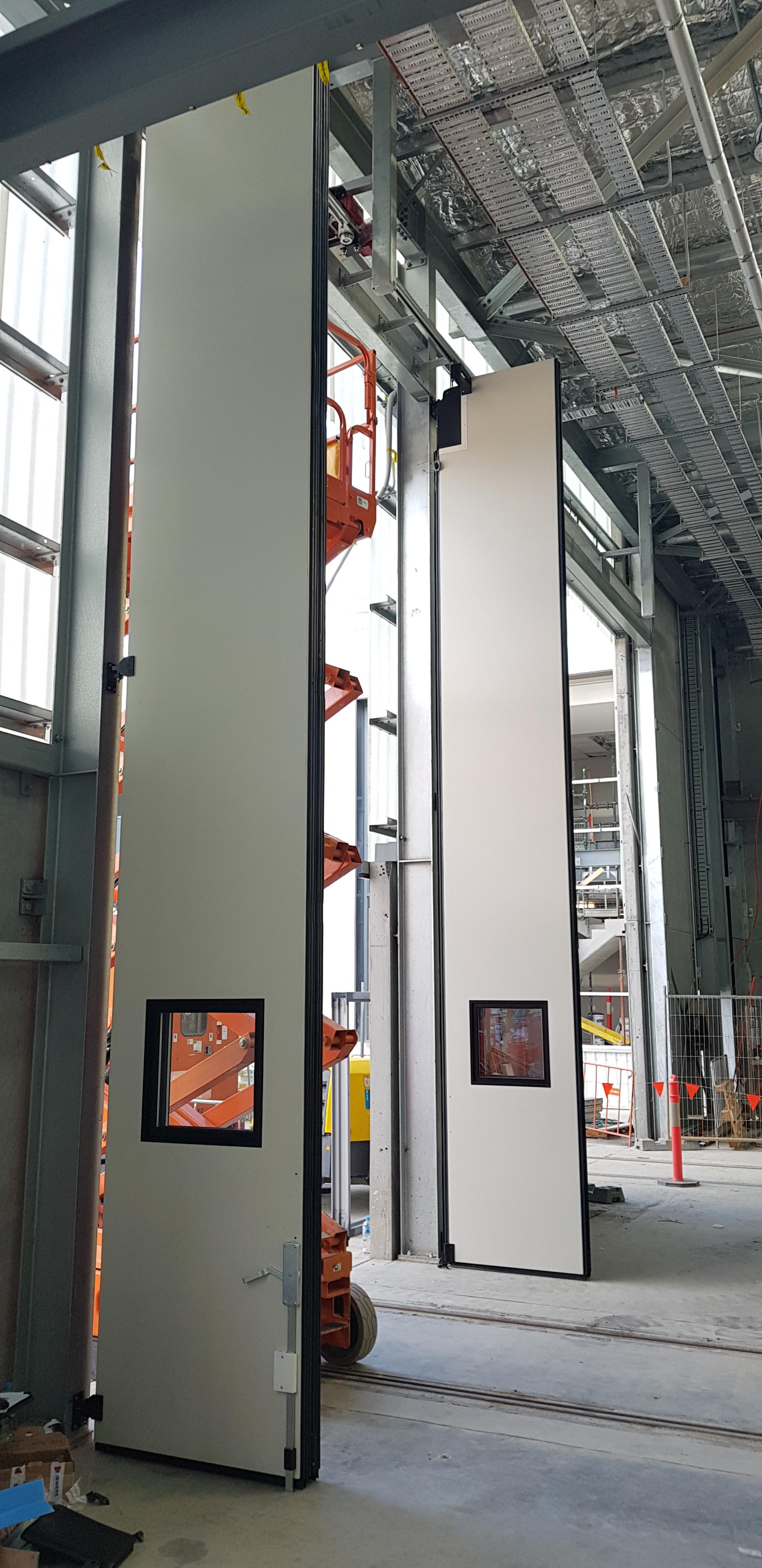 Following detailed design, in August 2017, Canberra Metro Construction contacted Jewers to provide the doors, which were manufactured at Jewers' Bedfordshire based UK HQ and shipped to Australia in the following year.
Each Swift-SEW door is configured in four leaves with two leaves
Doors are powder coated to match the cladding façade and each leaf is fitted with a double glazed toughened glass vision panel set in a thermally broken aluminium frame to provide light ingress and visibility.
A high level 500mm x 580mm cut-out allows the door to safely close around the overhead line equipment (OLE).  The cut-out is lined with a dielectrically rated rubber sheet tested to 30kVA to prevent bird entry and reduce dust ingress, and the door is earthed back to the structure with suitably rated earth-bonding braids.
The maintenance depot is accessed by four roads, each road being secured by a pair of seven metre high Swift-SEW doors.  Three of the doors are four metres wide, whilst the door on the fourth road is five metres wide to accommodate the LRV accessing the opening on curved tracks.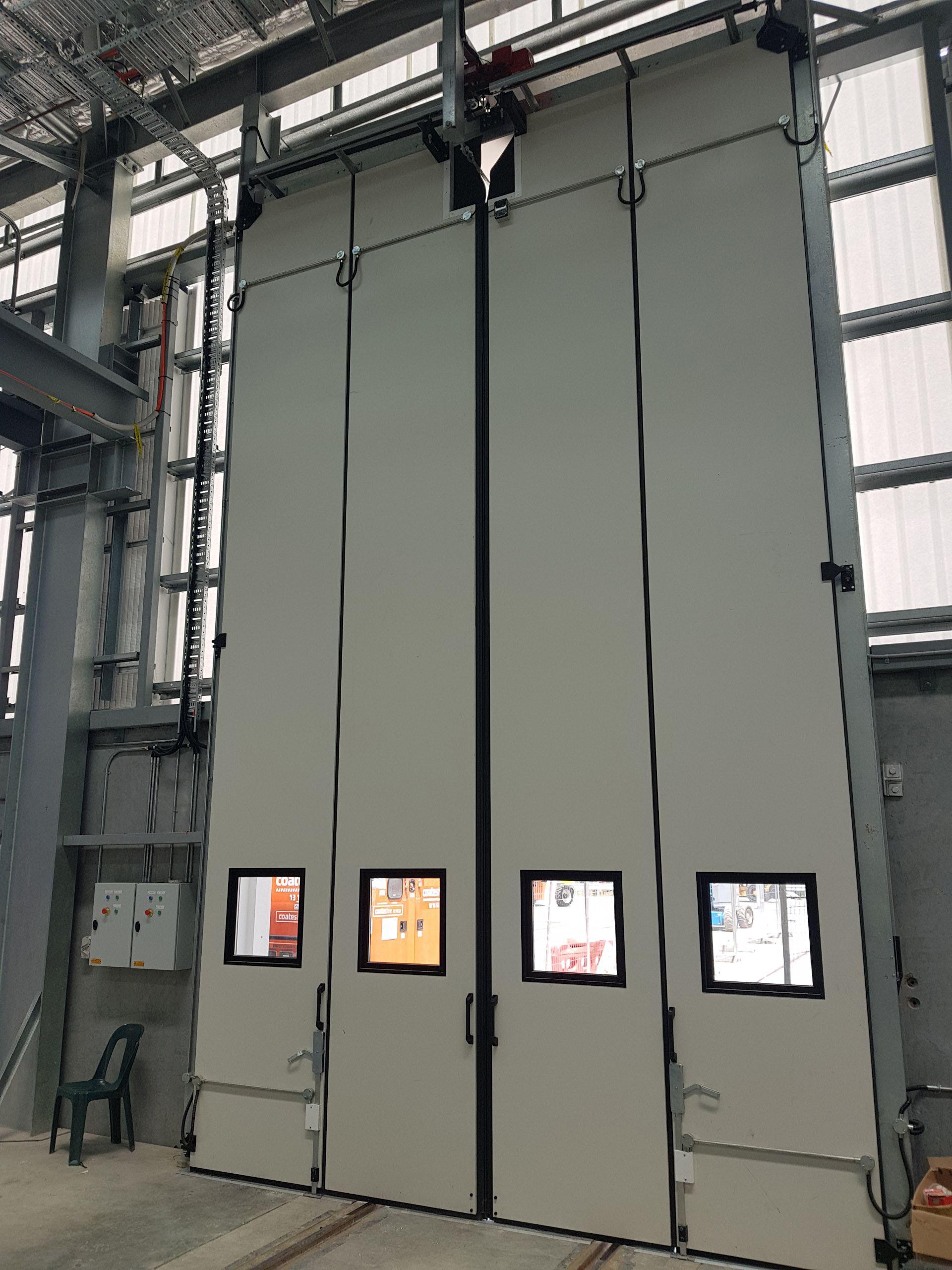 Jewers Doors' director, Mark Jewers commented, "Rail is a booming industry in Australia, and we were delighted to be invited to provide the very best of UK engineering for this hugely prestigious project.  In my experience, previous depot door installations in Australia have been somewhat agricultural, and Canberra Metro recognised the benefits of a proprietary UK product purchased from MDS who are a well-respected supplier of high quality industrial doors in Australia.  Jewers are already working closely with MDS on several other rail projects."
Editor Notes
Hi- res images available on request
 More about Jewers Doors
Established in 1983 and still a family run business, Jewers Doors is a world-leading supplier of industrial doors operating from a state-of-the-art facility in the heart of Bedfordshire. With over 60 highly skilled and experienced staff in UK and UAE, the core of the business is design, manufacture, installation and repair of industrial door solutions across all industrial sectors. The Phoenix range of doors are designed for medium to large industrial applications, while the Esavian range is recognised as one of the world's leading range of aircraft hangar doors.  Incorporating the very latest concepts and technologies, Jewers Doors have been installed not only in the UK, but also throughout the world including Europe, Middle and Far East and Australasia.
For more information visit www.jewersdoors.co.uk
Contact
Mark Jewers:  e-mail: mjewers@jewersdoors.co.uk  Tel: 01767 317090  Mobile:07801 228790