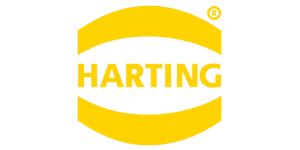 M12 PushPull is the answer to tricky train installations
Interior fitting work in trains is often awkward due to tight space conditions. In addition, cable ducts, wall ducts and the interior of control cabinets can be difficult to reach. When you're working in confined spaces, simple installation processes are crucial, so HARTING has looked at the issue of difficult assemblies. Thanks to the M12 PushPull, there's now a solution which offers handling, time and reliability benefits.
Traditionally, M12 connectors were locked in place via a screw connection, with a tool being used to achieve the necessary torque. However, the assembly quickly becomes complicated if there is not enough space to insert a screwdriver or accommodate a wrench. This method is also extremely time consuming, especially if 20 ports on a switch need to be mounted in a confined space or from an uncomfortable working position.
The M12 PushPull uses an intuitive, tool-free connection technique that ensures absolute dependency; as the two sections are clicked into place by hand, an audible feedback indicates the connection is secure. As well as simplifying difficult fittings, the tool-free installation method also means the assembly density can be significantly increased, helping to save valuable space.
See the Harting Catalogue Here
See you at Rolling Stock Networking on the 11th of July Derby.